9月13日から15日まで、ゼミ合宿として洞爺湖有珠山に川本・Madel・佐々木・成田の4名で行ってきました。その様子をM2のMadelさんがレポートとしてまとめてくれました。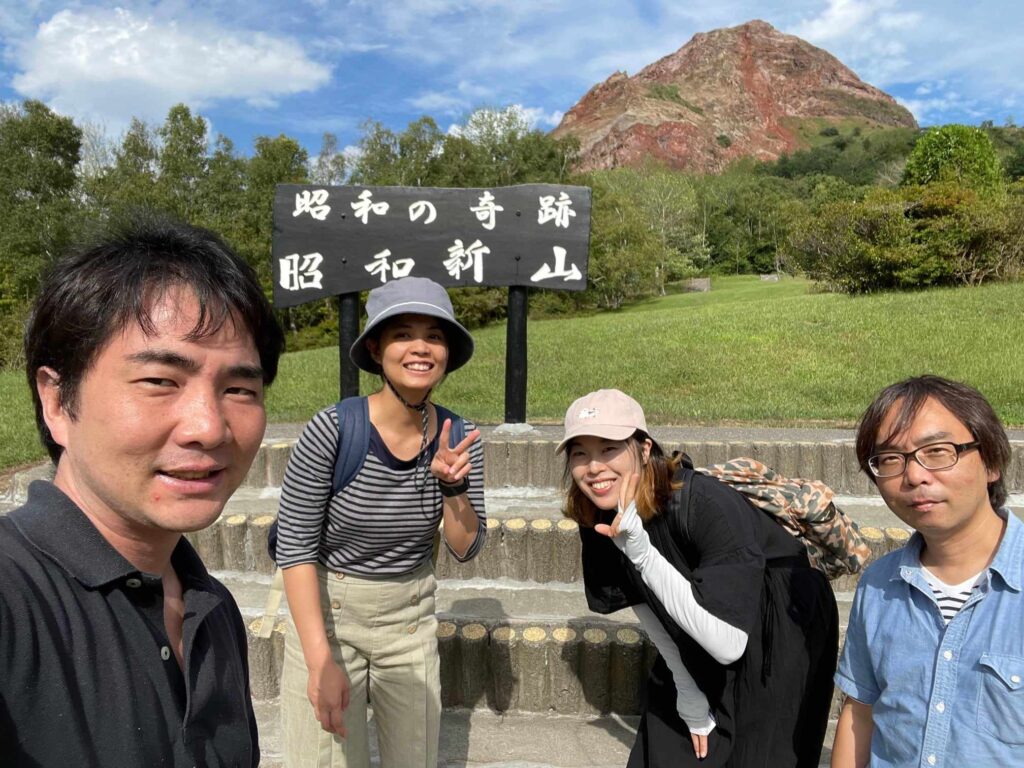 ---
Learning at Toya-Usuzan: Exploring blessings from an active volcano at the UNESCO Global Geopark
Our research laboratory went on a field immersion and study camp at the Toya-Usuzan UNESCO Global Geopark last September 13-15, 2023. The Toya-Usuzan UNESCO Global Geopark is the field site of our lab mate Araki. She organized the trip but in the end was unable to go because she caught a cold. I have heard a lot about the geopark during our lab seminars, but to go in person is a whole different kind of experience.
Day 1 Usuzan Ropeway and G8 Hokkaido Toyako Summit Memorial Museum
Kawamoto-sensei kindly drove us for 2.5 hours to Toyako arriving at noon as planned. His chosen route was a winding road that offered a close-up view of the peaceful Lake Toya and Nakajima. Our first order of business was lunch at Lagorto (ラゴルト), where we had pasta and pizza.
Following lunch, we dropped our luggage to our accommodation at Lakeside Kawanami-san (湖畔の宿 川南) for the next 3 days. It was a beautiful Western style house built by the owners themselves. It has a spacious living room and kitchen, 3 rooms, 3 toilets, and 1 bathroom. It was unbelievable how no professionals were involved in building this house.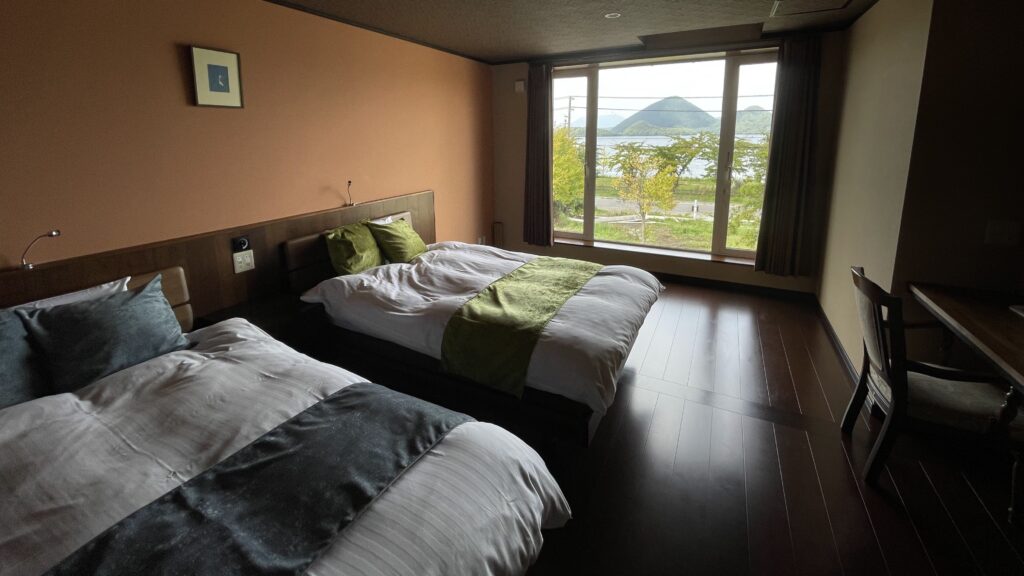 We then went to look at Showa-Shinzan up close then rode the ropeway to Mt. Usu. From the gondola, we were treated to a breathtaking panorama, featuring the bright red Showa Shinzan, the serene Lake Toya, and Mount Yotei in the background. Showa Shinzan was initially a wheat field. It transformed into its grandeur during the eruption of Mt. Usu in 1944-1945. I was also surprised to learn that this young mountain is privately owned by the descendants of Mimatsu Masao, famous for his Mimatsu diagram – a record of how the Showa Shinzan grew from a mere wheat field to its current mountainous size.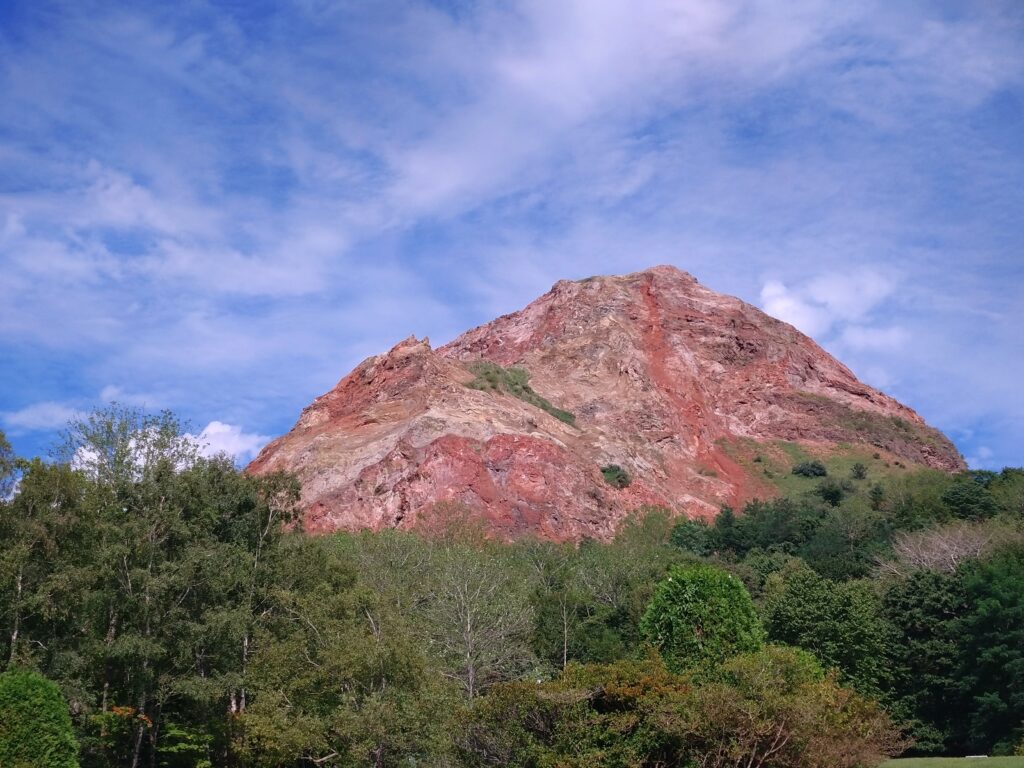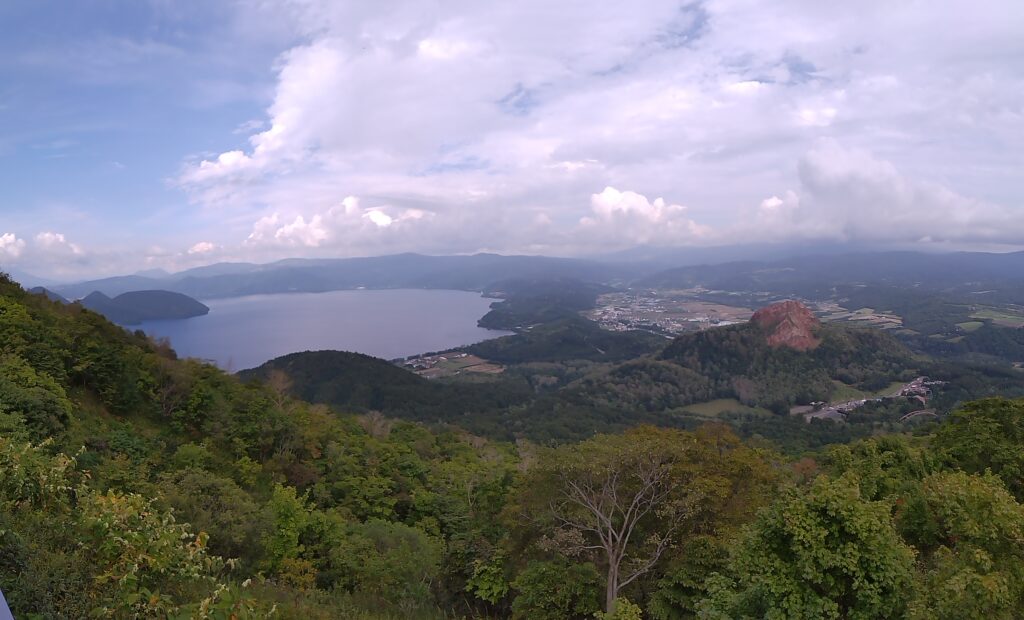 At the other end of the ropeway, we took a short trek to the crater observation deck, where we could see the Ginnuma crater alongside Uchiura Bay. This crater was said to be the largest and it was formed during the 1977 eruption. The volcanic activity at that time also lasted five years, which is overwhelming to imagine at present.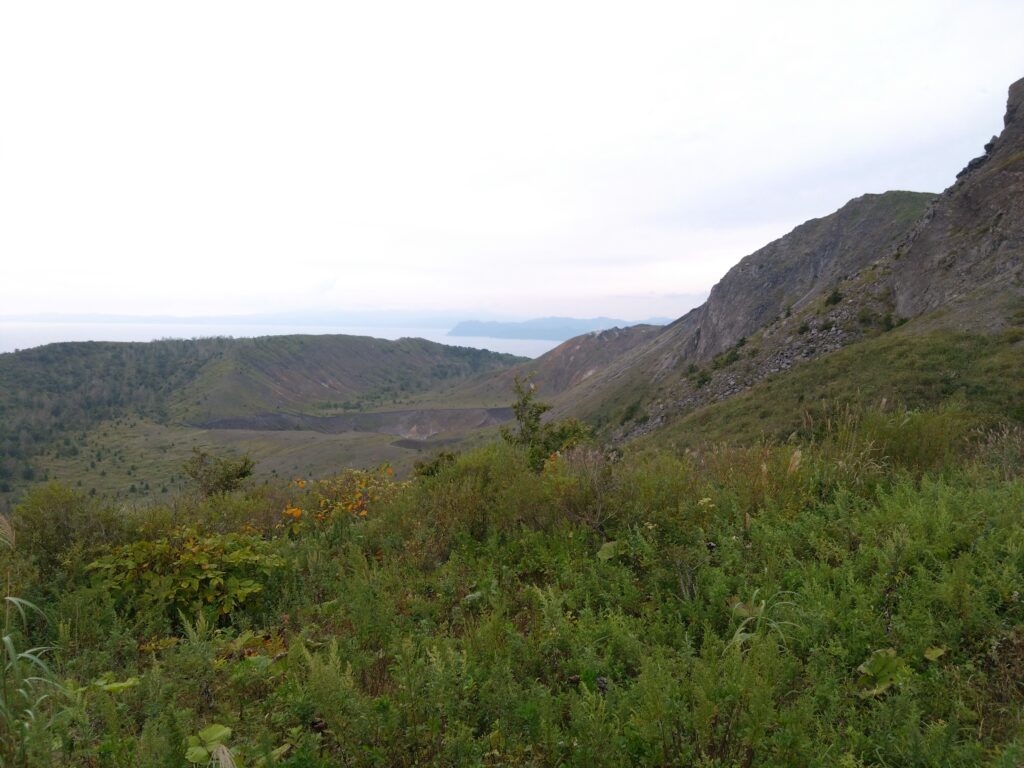 To end our tour for Day 1, we visited G8 Hokkaido Toyako Summit Memorial Museum. The G8 Summit was held in 2008 at the Windsor Hotel. The chairs and conference tables used at the time were preserved and displayed at the museum, alongside life-size pictures of the attending world leaders. During the Summit, Narita-san was a student volunteer who took part in welcoming guests. We also found his photo in a commemorative magazine displayed at the museum.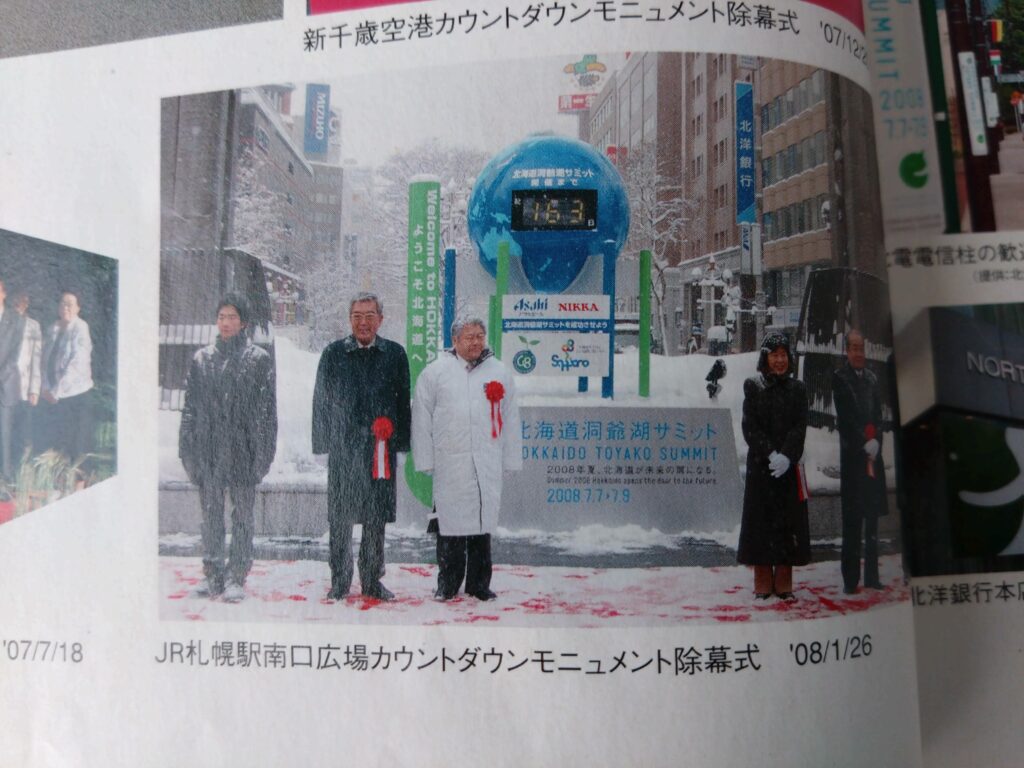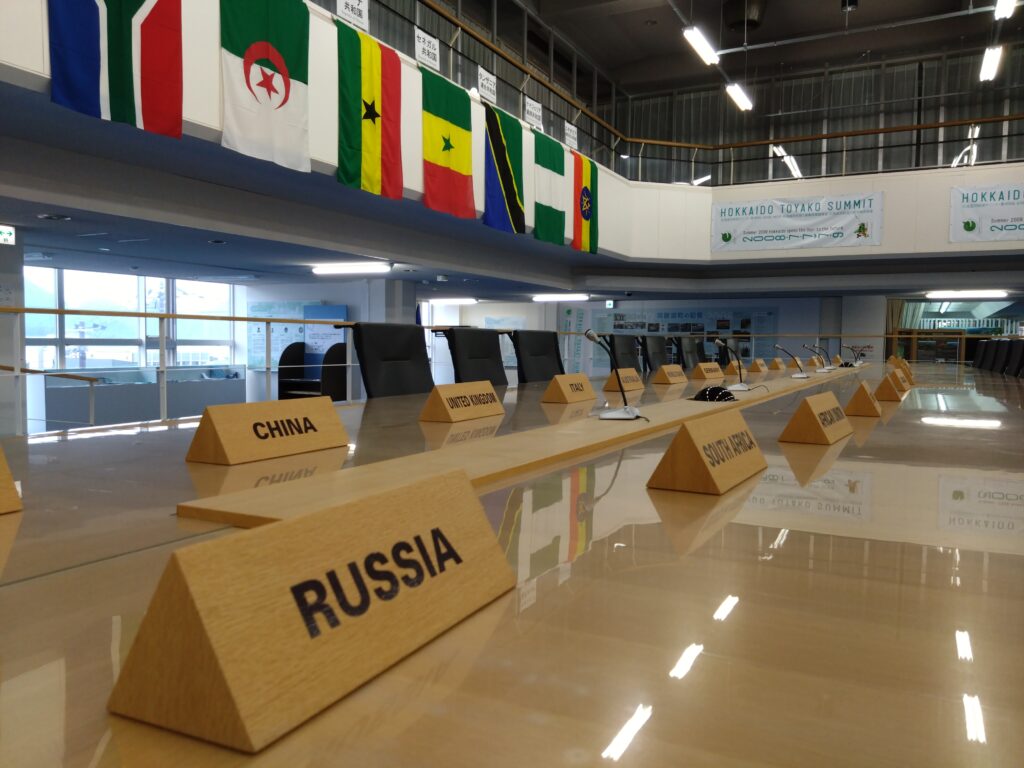 The day concluded with a relaxing bath in an onsen and a barbecue feast outside our inn, which was kindly prepared and organized by Sasaki-san. We were also treated with fireworks display over the lake. At first, we were satisfied watching the faraway display at the main town while drinking beer. But by the end, the fireworks were getting bigger and closer to our location. Apparently, they were being launched from a ship that goes around the coast, and this is an everyday event from April to October (except on stormy days).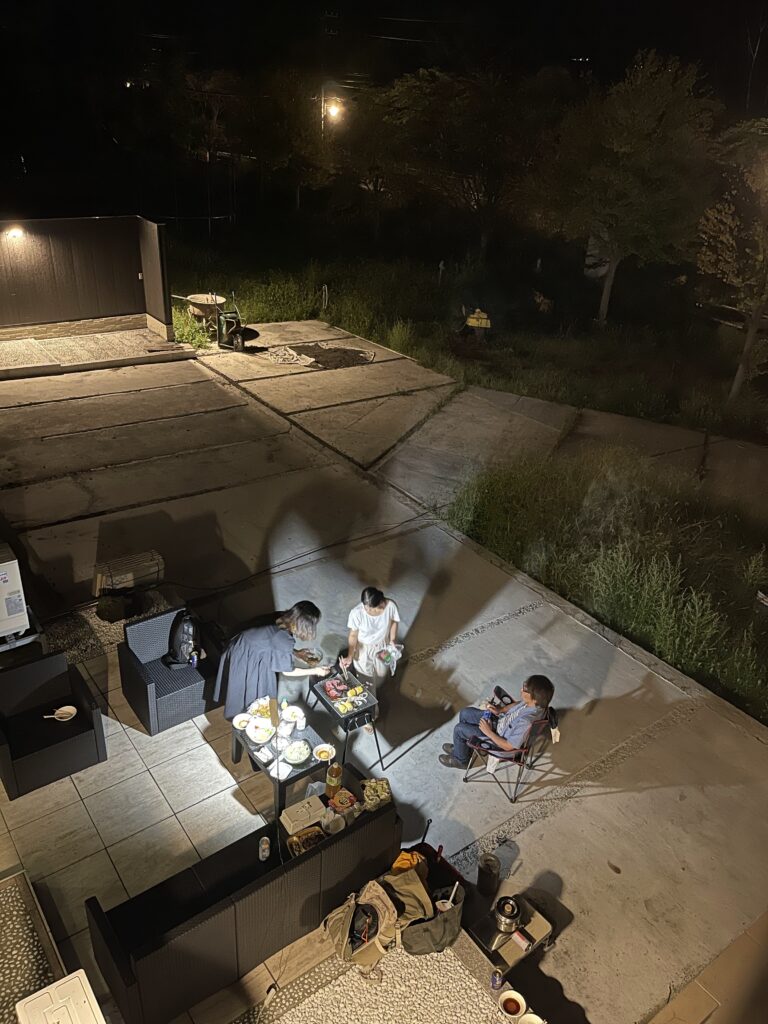 Day 2 Grueling Study Session
We woke up to rain on Day 2. It seemed like the weather was telling us to stay in and focus on studying, so we did. But not before energizing our minds and bodies with a sumptuous breakfast from last night's barbecue leftovers! After our self-preparations, we started our presentations at 11am. Our main topic for the day is to discuss selected chapters from "The Handbook of Science and Technology Studies, 4th edition." We had the following schedule (more or less):
11:00 – 13:00 Chapter 10 STS and Social Movements: Pasts and Futures (Madel)
13:00 – 14:15 Chapter 15 Conceptualizing Imaginaries of Science, Technology, and Society (Kawamoto)
14:15 – 15:15 Lunch break
15:15 – 16:45 Chapter 33 Knowledge and Security (Narita)
16:45 – 20:30 Dinner and onsen break
20:30 – 22:30 Chapter 27 Surveillance and Regulation of Laboratory Practices (Sasaki)
22:45 – 00:00 Preparation for the Midterm Defense (Madel)
We had a very rich discussion about the origins, similarities, and differences of STS, science communication, and other closely related fields such as sociology of science and sociology of scientific knowledge. We also talked and reflected about objectivities and truths in science, how science defines and dictates them, and how the intricate concept of "imaginaries" can also define truths.
The third selected chapter was related to dual use, which has become a personal interest due to its reflexive nature. It was mentioned that in the 3rd edition, the dual use chapter was entitled "Science, Technology, and the Military." However, dual use issues are not only limited to military research, hence a more encompassing concept of "security" was probably used.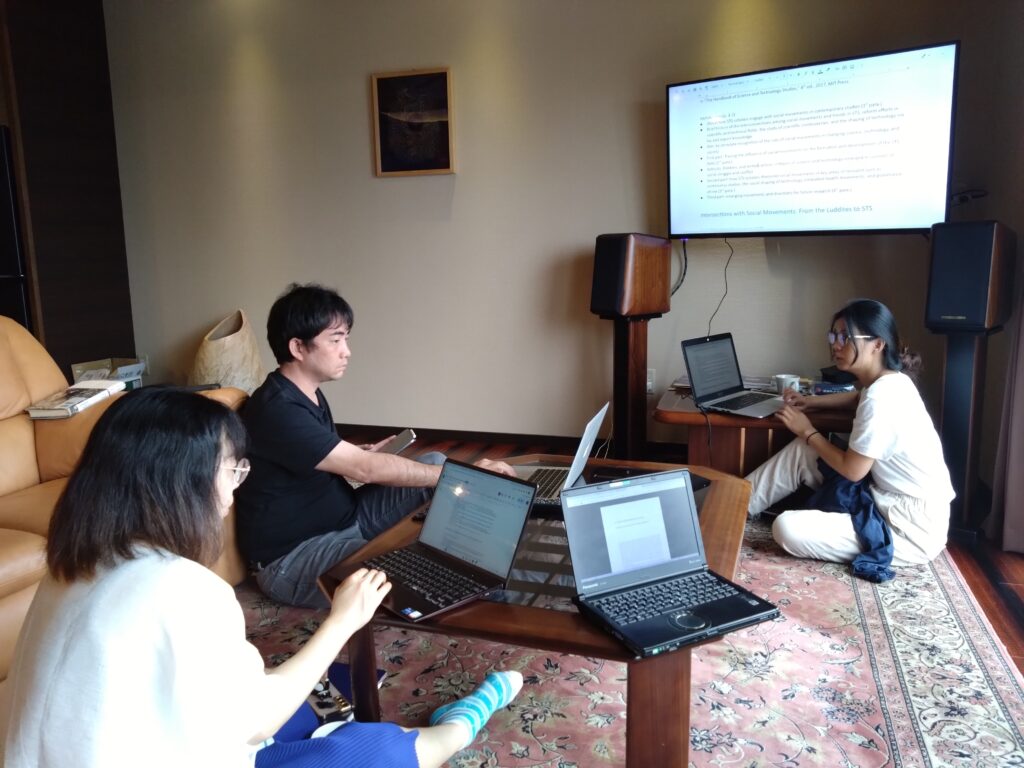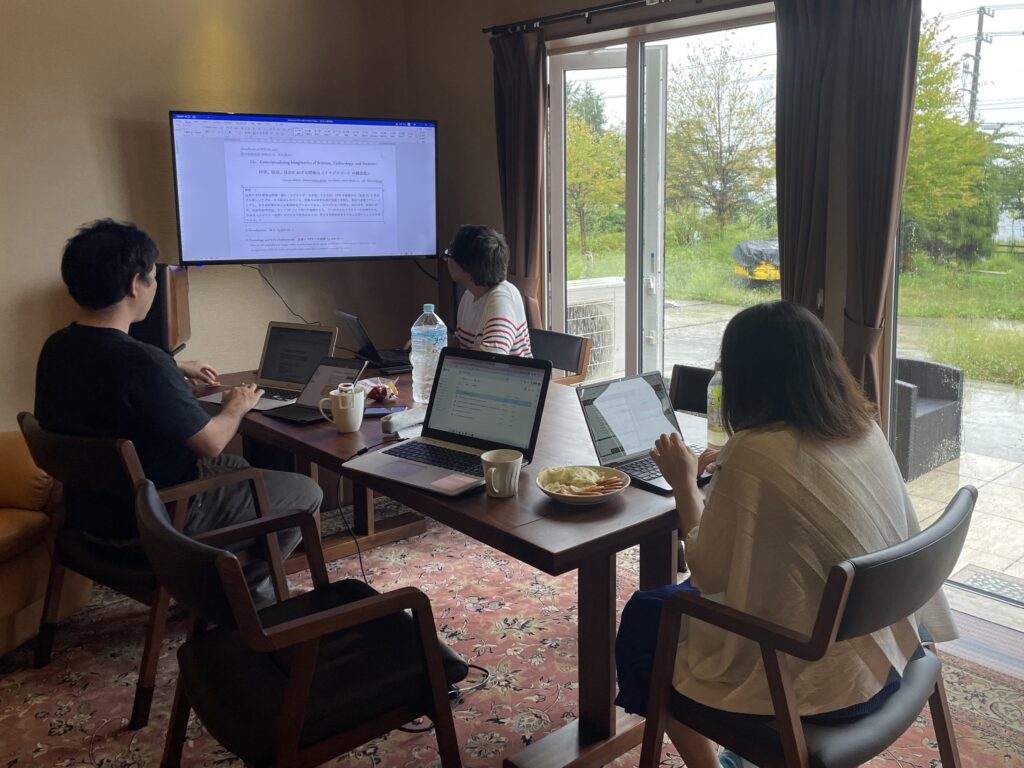 Before we knew it, it was dinner time. We had an early reservation at KARZZ, thanks to Araki-san. We had the recommended Geopark pizza, and a fish from Lake Toya. (I wonder why we didn't have a picture. Maybe we were too hungry?)
Afterwards, we had a rejuvenating bath at the Toyako Manseikaku Hotel Lakeside Terrace (洞爺湖万世閣 ホテルレイクサイドテラス), which offered an open-air onsen with a view of the lake. It was already dark so I could not appreciate the view much, but the cool breeze on my face and the comforting warmth of the onsen waters made me last in the bath a bit longer, dissolving my fatigue. It was a much-needed study break.
Continuing our grueling study session back at the inn, the atmosphere grew less demanding. Some of us sipped on beer while listening, hence fostering a relaxed ambiance that did not at all compromise meaningful discussions. The last chapter from the STS handbook that we studied is about laboratory practices. It reminded me of Collins when they talked about gaining expertise in the laboratory. They also talked about laws and regulations that should guide research and experiments, which are implemented by external auditors, but it's the scientist in the laboratory who knows best how to optimize their own research space. By the end, we raised more questions than we could answer. (Is this the so-called art of learning?)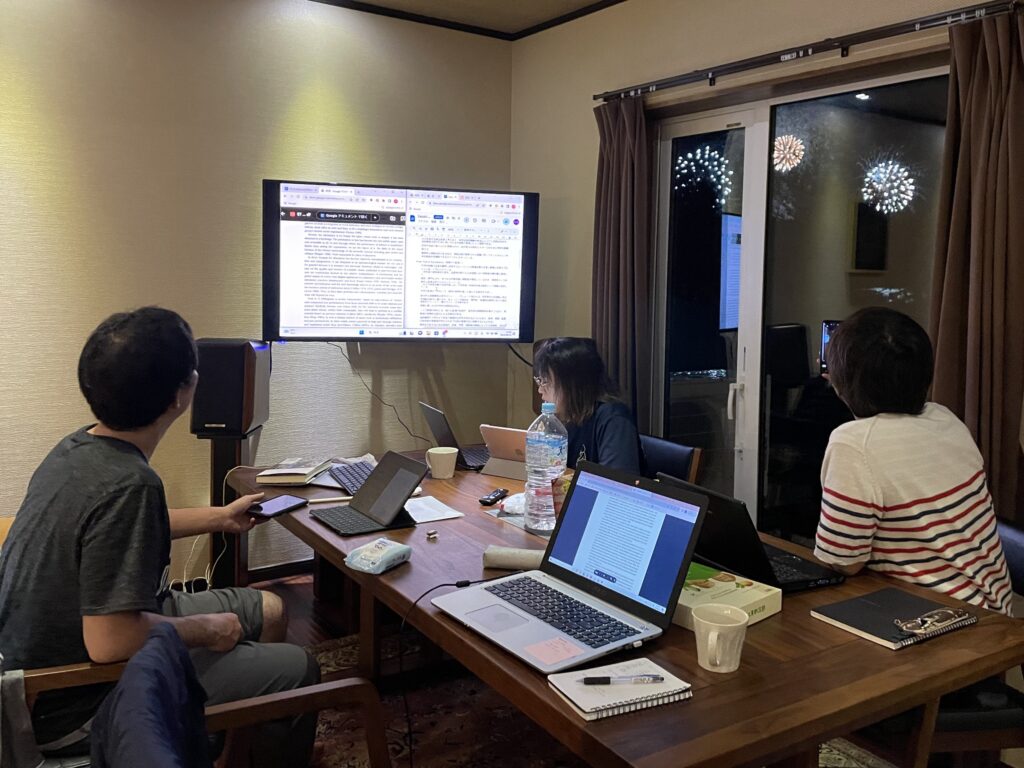 Our hardcore study session concluded with my preparation for the midterm defense by the end of October. I received invaluable feedback and guidance to improve my research narrative, slides, and presentation. Important questions to improve and move forward my research were also raised. It's been a long day, and everyone stayed up until very late, so I was very grateful.
Day 3 Part I – Lake Toya and Nakajima
The weather cleared up just in time for our excursion to Nakajima. It will be another busy day, so we had breakfast and checked out early. We then went to meet Aramachi-san, a Volcano Meister and our guide for the day. She informed us that there was a high wave warning, and we might not be able to go to one of our destinations, the Zero Point. But we can still go to Nakajima, hence we went there first via a private motorboat. It has been a long time since I was able to ride a boat.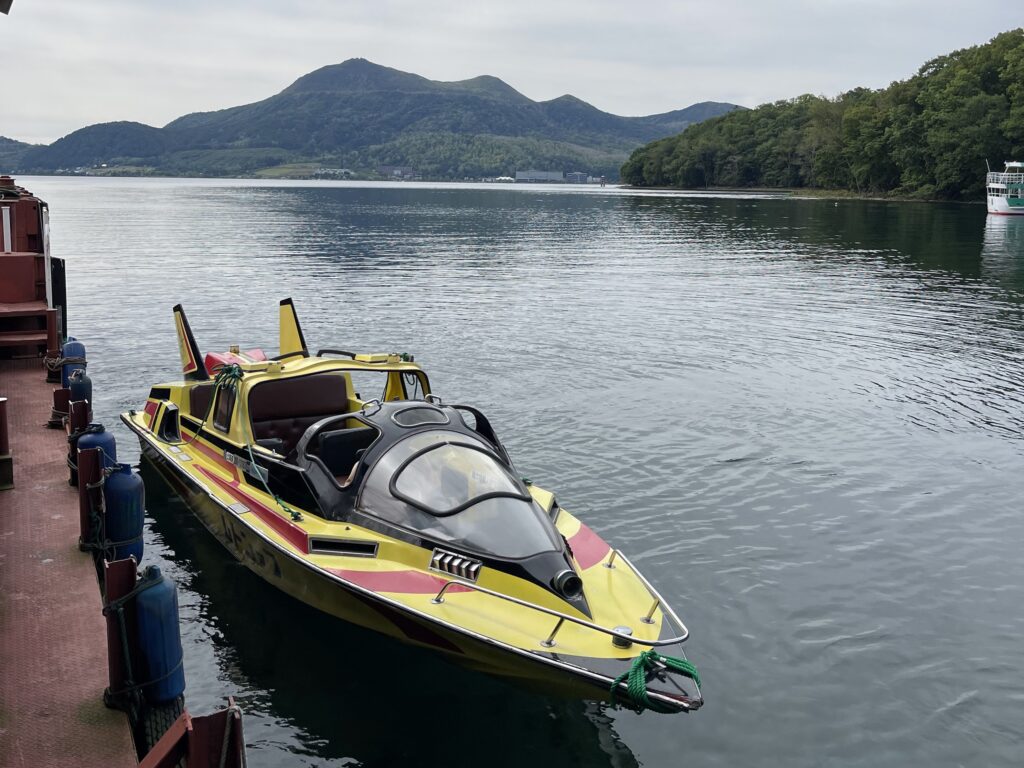 Nakajima is actually a group of four islands, and we went to the largest one called 大島 Oshima (literally means "big island"). There, we trekked for about 2.5 hours passing through giant larches, a man-made forest of Sakhalin spruce trees, which are the symbol of Nakajima, and mysterious holes that blow cool wind from underwater streams. We heard that Ezo-shika deer lived on the island, but it is difficult for people to spot them.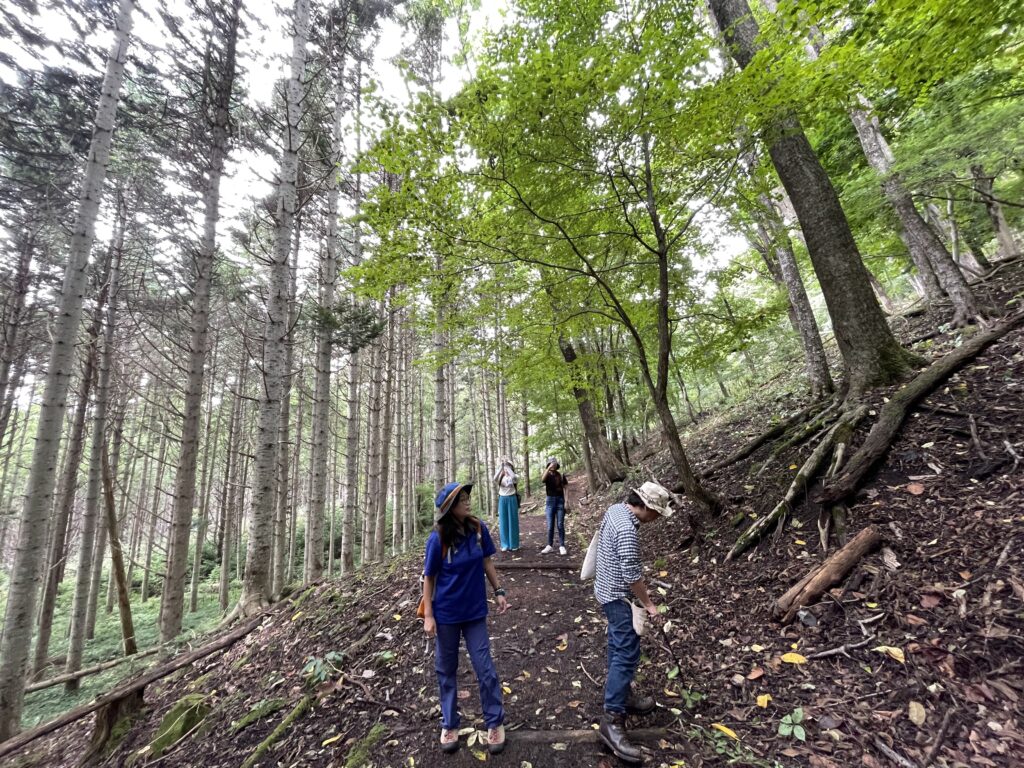 We reached a central valley called 大平原 Daiheigen (Great Plains), and this was the endpoint of our trek before turning back. The Great Plains provided a spectacular view of Mt. Yotei in between the hills of Nakajima. Aramachi-san told an interesting story where people come here to receive energy from nature. I definitely received some energy here for the return trek.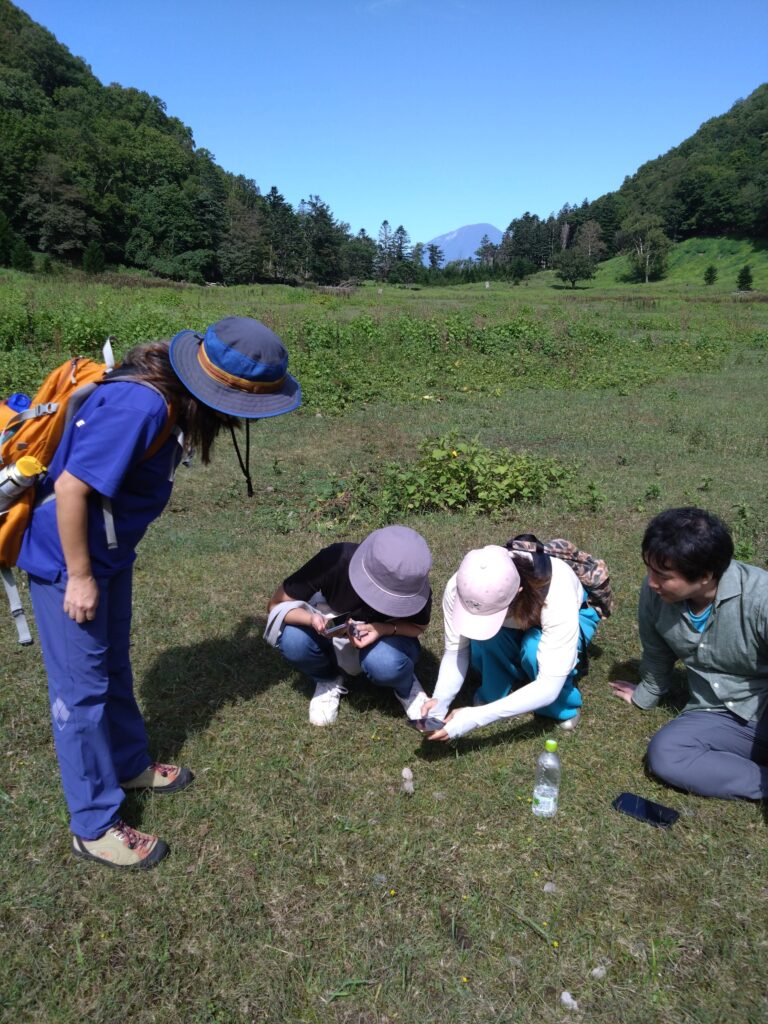 On the way back, we took a slightly different route that passed through lines of chestnuts and giant vines. Sensei was not able to find bones, but he found some deer dung (and an earthworm!). We got back to our starting point and surprisingly, there were deer bones just lying there.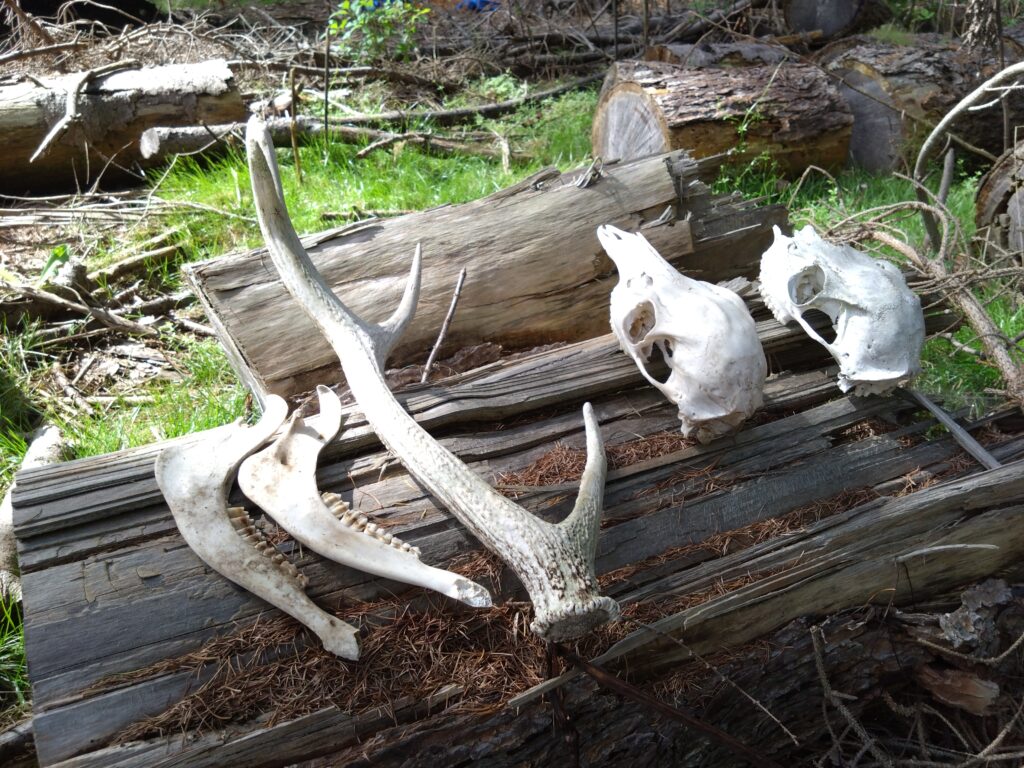 When we got back, we learned that the high wave warning had been lifted, so we can now go to Zero Point. We had to wait for the boat for a few minutes, so we dropped by the small Forest Museum first. They had exhibits on how the caldera lake and the islands were formed, but it was mostly in Japanese.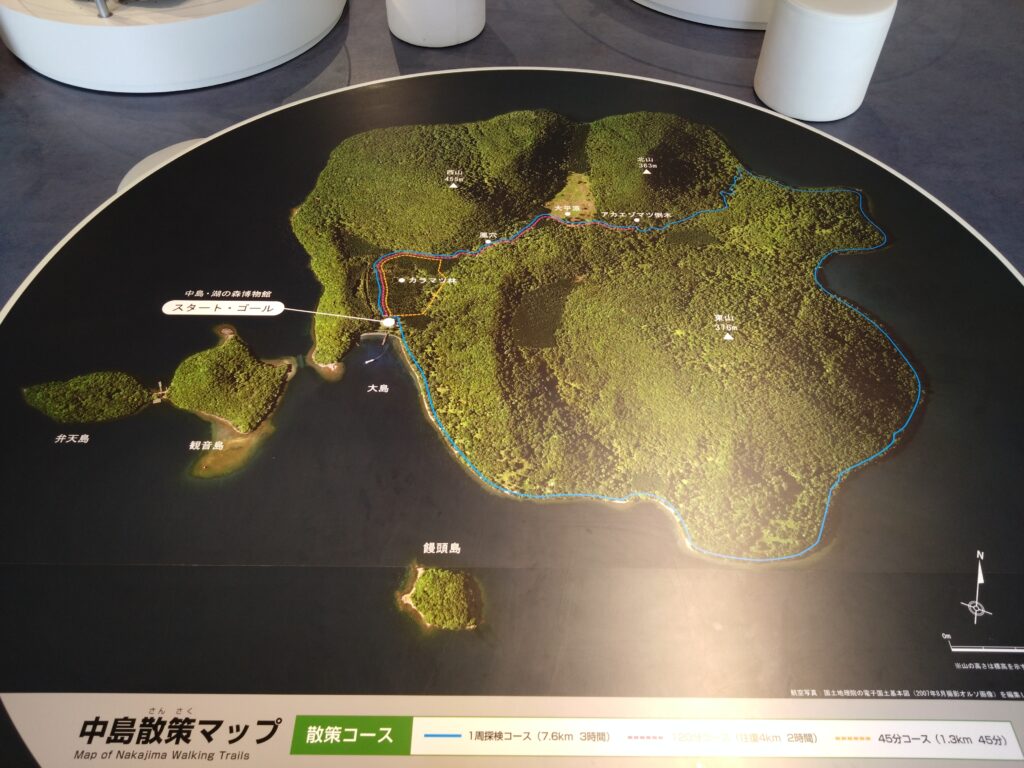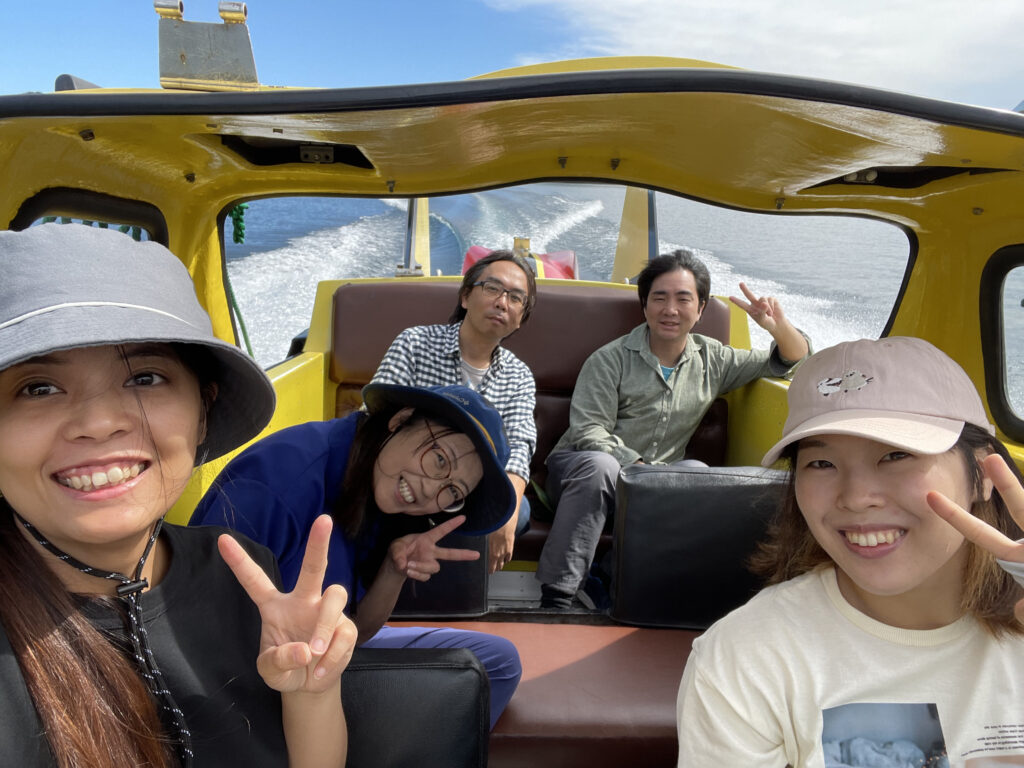 When the boat arrived, we finally proceeded to Zero Point – the island that could not become an island. The peak of this underwater island is around 1.5m below the water surface. If it could have risen just a little bit more, it would have been the 5th island in Nakajima. Personally, I think Zero Point is fascinating for what it currently is. We went to a shallow point and the crystal-clear waters unveiled a rocky seabed. Aramachi-san said that there is a sudden drop or cliff nearby. I thought it would have been a good freediving spot.
Zero Point marked the end of our Nakajima exploration, so we went back to shore. It was also time to satisfy our rumbling stomachs. We went to a restaurant called Boyotei(望羊蹄). It seemed popular as it was full, so we needed to wait. The very dependable Narita-san offered to wait in line, granting us time to explore a nearby park, which commemorated the zero-casualty eruption of Mt. Usu in 2000. Nearby, we found the underwater railways — tracks used to haul ships from the lake during winter. Afterwards, we went back to Boyotei and finally had our lunch.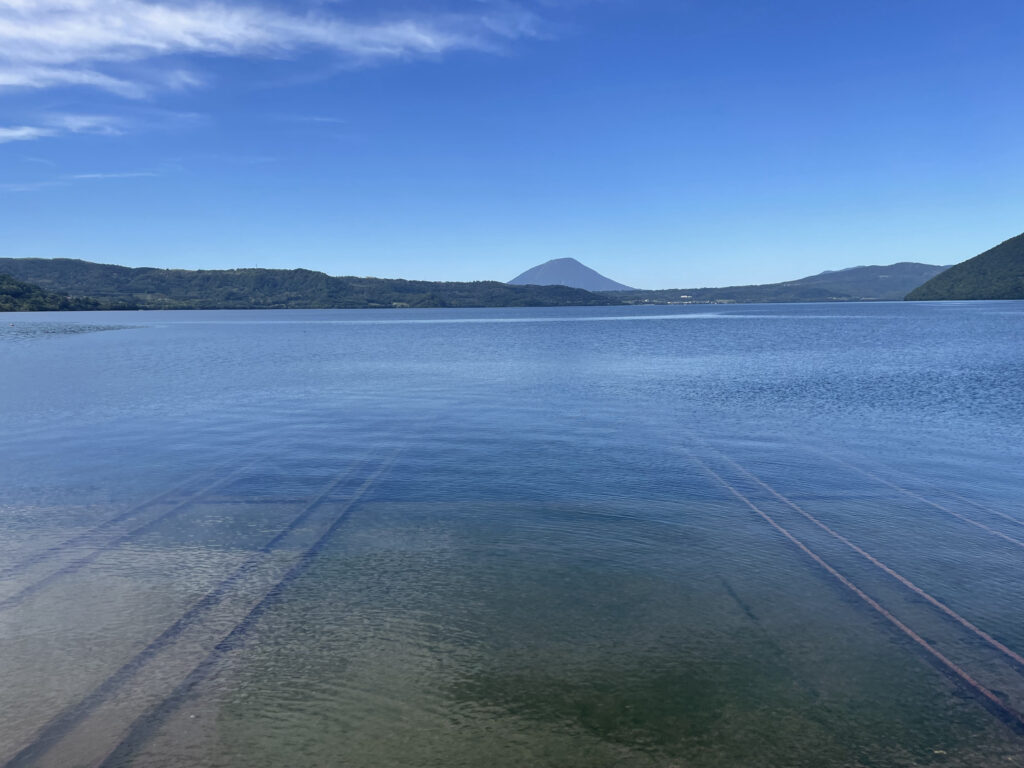 Day 3 Part II – Mimatsu Memorial Museum and the 2000 Mt. Usu Eruption
The trip continued with a visit to Mimatsu Masao Memorial Museum. We were supposed to go there on the first day, but we were a bit too late, and they already closed. But now, we had the museum all to ourselves, and had the privilege to meet the current curator Mimatsu Saburo. He kindly gave us an exclusive talk about past eruptions of Mt. Usu and disaster mitigation efforts in the area.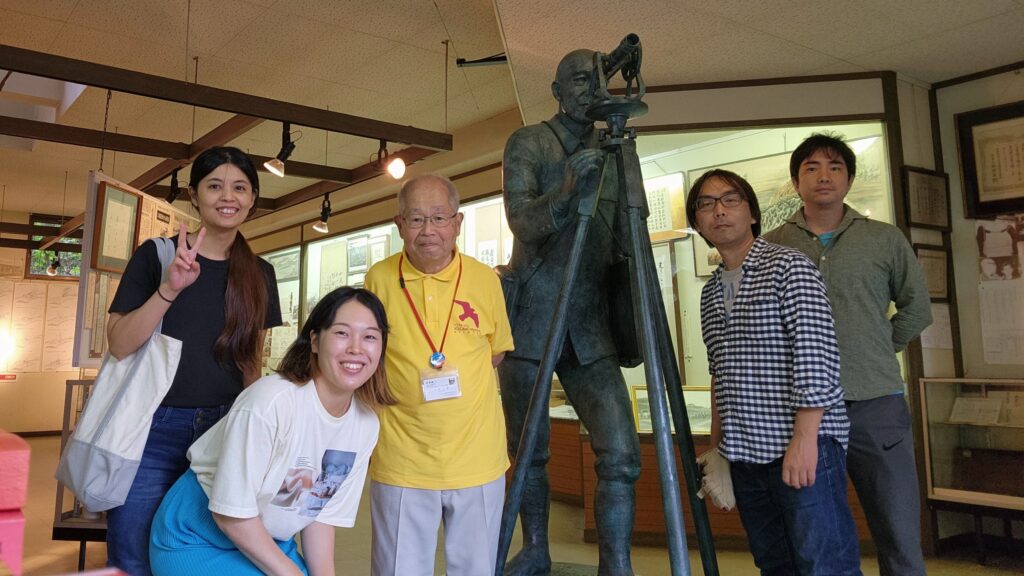 In addition to his work on the Mimatsu diagram, the museum also houses personal properties, paintings, and family photos of the late Mimatsu Masao. Rock collections from past volcanic eruptions are also exhibited. They also collected several news clippings about past eruptions including English news articles. English books and pamphlets about the geopark were also available to my delight.
After the museum, we went to the Kompira Crater Observation Deck where we saw the new craters formed on the west side during the 2000 eruption of Mt. Usu. Below, we could also see the now abandoned apartment and public hot spring house that were damaged at the time. Although there were property damages, there were zero casualties during the 2000 eruption, which could also be due to improved disaster mitigation efforts led by scientists and people of Toya.

We also dropped by the now abandoned fire station where the road 230 damaged and now unusable. Now, it serves as a tourist attraction and a reminder of how damaging a volcanic eruption can be.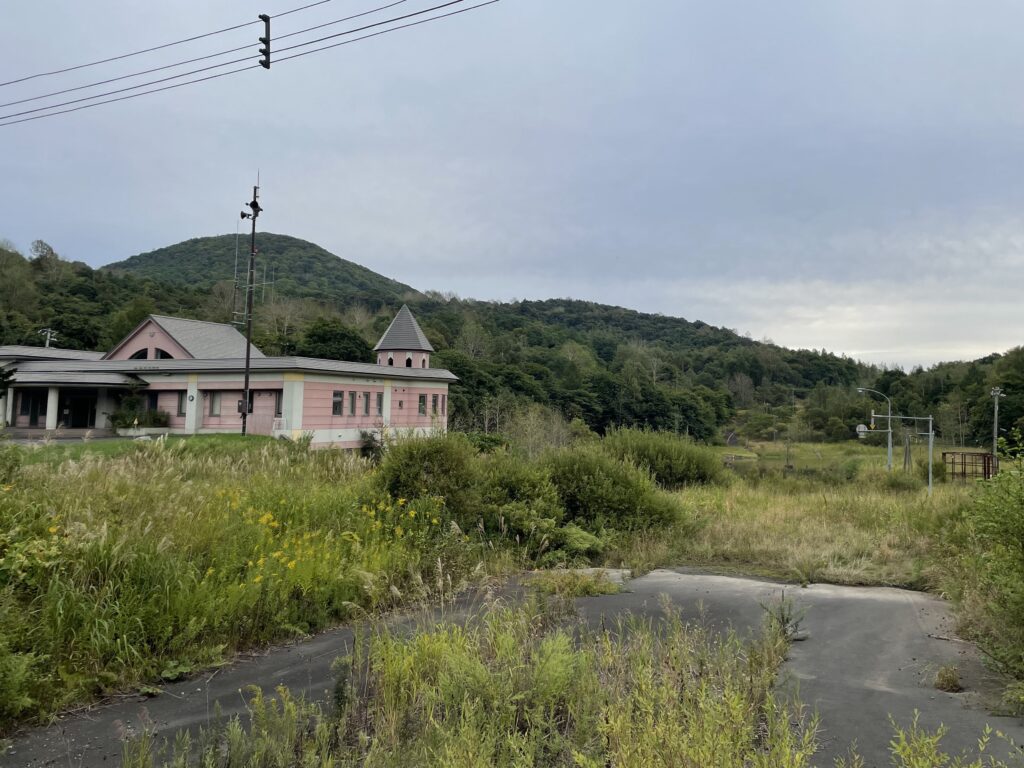 In retrospect, these three days were profoundly enriching, offering an immersive and enlightening experience in the heart of the Toya-Usuzan UNESCO Global Geopark. The Geopark's motto is "coexistence with the ever-changing earth." I only thought before that geographical changes occur gradually and can only be observed after a million years. But the whole geopark is itself an exhibit of how geography can also change many times in one lifetime. People living in the geopark see the volcano's blessings more than its risks – fertile soil for agriculture, natural onsen, and beautiful sceneries that attract tourists. Hence, the people continue to stay and make the geopark their home.
P.S. This trip was only possible through the efforts and connections of Araki-san. We would not have been able to enjoy as much if she did not organize it. We would also like to express our deepest gratitude to Kawaminami-san for providing us with comfortable accommodation, Aramachi-san for our guide, and Mimatsu-san for our invaluable conversations.